Florida's Award Winning Premier Breeder of Quality Authentic Maine Coon Kittens
What We Offer
MajestiCoon offers Maine Coon Kittens for Sale in Florida, we are located in Dunnellon Florida which is in West Central Florida. Our MajestiCoon line of Kittens is Authentic, High Quality pedigreed Maine Coons with exceptional bloodlines created over the last 35-plus years.  Our Maine Coon Kittens come with a lifetime of breeder education and support, a written health guarantee, and pedigrees, they are well-socialized and healthy with a strong background of parentage health testing you can be assured of a beautiful kitten with fantastic character and a loving temperament. MajestiCoons are fully tested by our Florida Licensed Veterinarian and come with a Florida health certificate, and all required vaccinations and testing.
MajestiCoon Maine Coon males, females, and kittens all live with us under one roof in segmented areas of the home, we consider them family members so they are never in cages or backyard sheds, shacks, or outbuildings.
Our kittens and customers are located all over Florida, The USA, and many other countries.
We have relocated
MajestiCoon is now a Florida Based Breeder of Maine Coon Kittens. We are located in Dunnellon, Florida which is close to Orlando, Tampa, Ocala and The Villages to the North are Jacksonville, Daytona, Lake City, and Panama City, and to the South are Miami, Sarasota, St. Petersburg, and the Florida Keys.
MajestiCoons Around the World, here is where we have placed kittens
History of the Maine Coon Cat
Maine Coon kittens and cats are the only native long-haired breed in America and were introduced as a top breeding line in the United Kingdom in 1980 from which some of our existing breeding cats descend. Many of our Maine Coons have subsequently gone on to continue our legacy around the world, including in the USA. To learn more about the rich history of Maine Coon Kittens and Cats click here.
Why we relocated
Our founders Lucille & her husband have recently retired from breeding these beautiful Maine Coons and the Majesticoon breeding program and bloodlines will continue in Florida, USA in the very capable hands of Ginnie & Steve Lane of OptiCoons who are our parent cattery, a TICA registered Maine Coon Breeder located in Dunnellon, Florida. They will continue to breed Majesticoon Maine Coons to high standards using proven high-quality bloodlines that over 35 years have proven to be clean and healthy with no known genetic issues.
Our Cattery Credentials
We are registered with The International Cat Association and we abide by the TICA Responsible Breeder Program and their Code of Ethics, we have been designated as a multiple-year Outstanding Maine Coon Cattery following a veterinary inspection. We are well known as an ethical Maine Coon Breeder in Florida of Quality Authentic Maine Coons not only in Florida but throughout the Maine Coon world.
Our Breeding Program
We breed exceptional examples from parents screened for genetic health issues and health and temperament are a top priority as well as the size and correct type. All our kittens are registered with TICA. As Breeders of Quality Authentic Maine Coons, our kittens are all raised within our home, handled from birth, and are well socialized and litter trained. All of our kittens come with a genetic health guarantee.
We specialize predominantly in Silver Tabbies (Mackerel & Classic patterns) and we also breed Brown Tabbies, Reds, Creams, Red Silvers, Blue Silvers, and Black Smokes. Here are some examples of our Maine Coon Kittens for Sale, where you can see different colors and patterns of previous Maine Coon Kittens.
Our MajestiCoon lines also carry proven American and European lines. Learn more about when MajestiCoon Catteries started in the Maine Coon kitten breeding world, all the way back in 1979.
Genetic longevity is paramount in breeding Maine Coon kittens and your kitten will carry these clean and time-tested genes, no other Florida Maine coon breeder can make this claim, it's with extreme confidence and more than 35 years of experience, MajestiCoon can. As a result -
MajestiCoon kittens are guaranteed in writing for 5 FULL YEARS against HCM, PK, SMA, and PKdef as well as Hip dysplasia.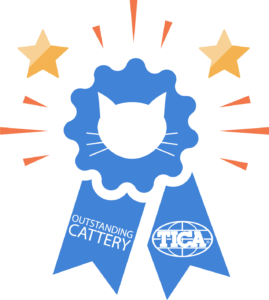 Multiple Outstanding Cattery Awards
MajestiCoon has been awarded the Outstanding Maine Coon Cattery by TICA multiple times in which we have committed to in writing to being an ongoing Ethical Maine Coon Breeder, very few catteries have obtained this award or made this commitment so as a buyer you can rest assured MajestiCoon will always stand behind our kittens.
Please take the opportunity to have a look around this site and view our Maine Coon Kittens for Sale and learn more about our cattery and its long running successful history.
For more information either contact us or follow this link to our sister site at www.floridamainecoons.com , you can also find us on our FaceBook page.
MAJESTICOON is a registered Trademark